Hmmm very interesting. See when it comes to money, i'm serious about it. I won't lie. This app definitely caught my attention.
Manages your expenses pretty well.
Manage your expenses directly on your smartphone. Easily keep track of your finances. This app allows you to record your expenses easily. Optionally you can assign a category to your expense in order to get detailed statistics and helpful insights.Features- Holo style- Ad-Free- Record new expenses- Assign categories- Manage monthly overheads- Manage categories- Set a monthly limit- Homescreen widget for even faster usage- DashClock Integration- Expense History- CSV Export- Detailed Stats (In-App Purchase)- Expense Distribution (In-App Purchase)PermissionsNetwork Communication:Send feedback to the developer inside the app.Error reportsStorage:For CSV export.Recent changes:New Feature: Edit your expensesNew languages: Italian, French and PolishSome bug fixesSome speed improvementsContent rating: Everyone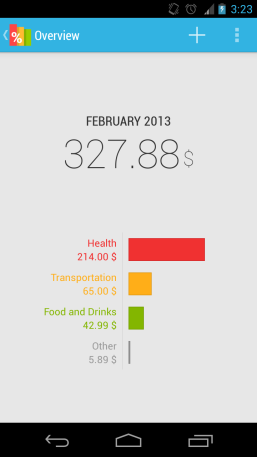 Expense Manager does most of its work from a menu that fits right in with stock Android. It looks like Google, itself, designed it. The app lets you color-code your spending and view it in several different ways. There are a few preset spending options, but there's also an expandable menu that lets you assign dozens of new spending categories. Even though you can input plenty of different types of expenses, there's no way to input revenue. That requires a $3 upgrade. You can change most of the app's presentation options from the settings menu, and there's even an option to export your spending into a CSV file. Sharing your expenses from this app only takes a few taps.