So i was on life hacker.com and read a very interesting post about the 5 best Android Phones.  I really liked how he broke it down here.
Here is what Alan Henry writes…
There are so many Android phones on the market that choosing the best one can mean a ton of research, price-checking, and waiting to see what's coming out in the next few weeks or months. Some are exclusive to specific carriers, some run stock Android, some are littered with bloatware but have powerful features. This week we wanted to know which you thought were the best of breed, not just because they round out a checklist of features or high-end hardware, but because you think they offer a great overall experience. Here's a look at the top five Android phones, based on your nominations.
We put this question to you the same time last year (just after Google I/O), and your top five Android phones then were really impressive for the time. Still, times change, and earlier this week, we asked you to pick a new batch to be the best of the best. You didn't disappoint, and offered way more nominations than we could possibly feature. Remember, our only conditions were that the phones you nominated had to be out and available now. Still, there were some strong trends, and no doubt about your top five. Here they are: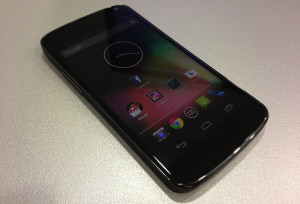 The Nexus 4 (8GB for $299 or 16GB for $349, contract-free) manufactured by LG, is the current official Google phone, and the flagship of the Nexus program. It's available contract-free directly from Google (or from T-Mobile in the US, if you want to buy it through a carrier) so you can pick and choose the carrier you use it with (including pre-paid options), which was a remarkable departure for Nexus phones compared to the previous models. Availability of the device has smoothed out over the past few months, and Google's order page now says a new Nexus 4 can ship to you in 1-2 business days.
The Nexus 4 is a 3G/HSPA+ device, and garnered some criticism for not ticking off the 4G/LTE box in its spec sheet. Regardless, that hasn't stopped the phone from being wildly popular, packing stock Android 4.2 Jelly Bean under the hood, a beautiful 8MP camera on the back (and a 1.3MP camera on the front), a nicely sized 4.7″ HD display that protected by Corning's Gorilla Glass 2, and is powered by 2GB of RAM and a Qualcomm quad-core Snapdragon processor. It's a killer device, but it's not perfect: the Nexus 4 eschewed a replaceable battery (although it does have a 2100 mAh battery) and expansion slot for a slim and trim design, so if you need either of those things, it might be a tough sell. Still, it does pack perks like NFC and wireless charging, and it is a Nexus device, so you can trust you'll get timely Android releases, always be up to date, and even if Google falters there's a massive development community working with the phone at all times.
Despite a horrendous launch event, the Samsung Galaxy S4 ($149-$199 with contract, all US carriers) is without a doubt one of the most super-powered phones on the market today. Samsung's latest iteration in the Galaxy line will, without a doubt, sell millions of units, and become one of the most popular Android phones on the planet, much like its predecessor, the Samsung Galaxy S3 (which, coincidentally, almost made the top five of its own accord). Contrary to the rumors that Samsung would put a little more heft into its phones or improve their build quality, the S4 has almost the same case design and materials of its predecessor, so if you hate plastic and polycarbonate cases, you may not love the S4. The device only recently came out, but high demand has slowed its rollout, but regardless, it is available on all US carriers.
The Galaxy S4 is a 3G/4G device, and since it's available for all carriers, each carrier model supports each carrier's 4G network. It packs Android 4.2 Jelly Bean, although it's overlaid with Samsung's TouchWiz user interface, which directs you in some cases away from core Android features and to Samsung's branded counterpart services. Regardless, all of Android's features are under the hood, you just might have to dig a little through TouchWiz to get to it. You also get 13MP camera on the back (and a 2MP camera on the front), and it sports a 5″ full HD display. Under the hood, the S4 packs 2GB of RAM, a quad-core Qualcomm Snapdragon processor, a 2600mAh removable battery, and it comes in 16GB, 32GB, and 64GB varieties with a microSD card slot that allows you to add up to another 64GB to the device. It also sports NFC, and a host of Samsung-specific features, like the S-Health fitness tracking system, Samsung's Smart Scroll and Smart Pause systems, the S Voice personal assistant, and the S Travel trip advisor.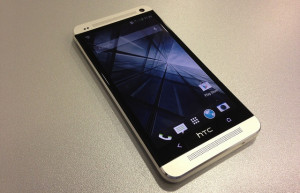 The HTC One ($199 on contract with AT&T, Sprint, T-Mobile, $575 unlocked direct from HTC) is a beautiful device. Seriously—it's earned high praise from all corners for its solid build quality and sleek aluminum body. It doesn't just look good, either—even after the launch of the Galaxy S4 and all of its features and power, reviewers are still torn over whether the One or the S4 is the current crown champion of the Android market. Just as well too, HTC needed a powerhouse phone to re-energize itself and get back in front of the Android market, and while the One X and One S of previous years were great devices, the new One flagship device is solid leap forward.
The HTC One ships with Android 4.1 Jelly Bean (although an update to 4.2 is on the way), overlaid with HTC's new Sense 5 interface. Sense 5.0 represents a shift away from the old Sense UI, one that you'll either love or hate, but most critics have responded positively to it. Even if you dislike overlaid UIs, Android isn't too far away. You get a 4MP camera on the back that's also capable of full 1080p video (and a 2.1MP camera on the front), and a 4.7″ full HD display. The One packs 2GB of RAM, a quad-core Qualcomm Snapdragon processor under the hood, a 2300 mAh non-removable battery, and comes in 32GB and 64GB versions. The One doesn't have an expansion slot, so make sure to get the model with the storage you'll need. The HTC One also comes with an array of actually useful HTC features, including the HTC Zoe photo gallery and web gallery that make uploading and sharing photos surprisingly easy, HTC's BoomSound audio processing system (which replaces—sort of—Beats Audio from previous devices), and HTC's Sense Voice noise isolation system that makes sure your callers can hear you and not the ambient noise around you.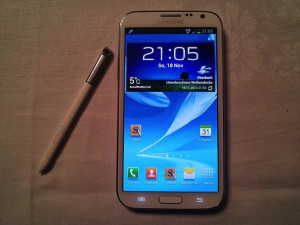 Despite being a "phablet," thanks to its large size and included stylus, the Galaxy Note 2 (prices vary, but average $149 on contract, all carriers, also available unlocked for $5-600) earned high praise from a number of you for being large enough to use for things you might want a laptop or tablet for, but still small enough to be portable and function effectively as a phone. Plus, you can't beat a large screen for reading the web, mobile gaming, or working on the go. The original Galaxy Note made it into our previous roundup, and for many of the same reasons. Whether the Note II is too large for you is entirely a matter of personal preference, but there's no disputing the fact that the it has the features under the hood to make it a solid contender either way.
The Galaxy Note II is a little bigger than its predecessor, featuring a 5.5″ HD screen and shipping with Android 4.1 Jelly Bean (although an update to 4.2 is planned for the summer), and includes Samsung's TouchWiz UI. It comes with an 8MP camera (and a 1.9MP camera on the front). Under the hood, you get 2GB of RAM, a quad-core Exynos processor, and a massive 3100 mAh battery. It comes in 16GB, 32GB, and 64GB versions, and is expandable up to another 64GB. Of course, we can't mention the Note without talking about the included stylus, the S-Pen. Like its predecessor, Samsung has gone out of its way to make the S-Pen actually useful with the Note II and not just a gimmick. S-Note, S-Planner, and built-in support for handwriting and navigation by stylus make it an actually useful way to work with your Note II.
The Galaxy Nexus (prices vary, but essentially free on contract, all carriers, also available unlocked for ~$300), the flagship of the Nexus program until the Nexus 4 came along, not only made our last roundup, but it took the crown after the votes were counted. It's still one of your most popular devices—it doesn't hurt that it's a 4G device, runs stock Android, and has models available that support virtually every carrier in the United States, locked or unlocked. That's another reason the device is so popular: It's widely available unlocked, so you can take it to the carrier you choose (mostly), and use it without getting locked into a contract. Other devices may be newer, larger and fatter, but the Galaxy Nexus is a slim, trim device that fits nicely in the hand, gets the job done, and because it's still a Nexus, it has huge dev support.
The Galaxy Nexus is the oldest of the devices in the roundup, so availability new may be spotty depending on which carrier you choose. Still, they're widely available used. The Galaxy Nexus was the first phone to ship with Android 4.0 Ice Cream Sandwich (stock) on it, and it has since been updated to 4.2 Jelly Bean virtually everywhere. You get a 5MP rear camera (and a 1.3MP front-side camera) featuring the Nexus' famous "zero shutter lag," and a 4.65″ HD Contour display. The Galaxy Nexus also features 1GB of RAM, a dual-core Cortex-A9 processor, and a 1750mAh/1850mAh battery (which one depends on whether you have the HSPA+ or LTE model, respectively). No expandable storage, but the Galaxy Nexus is available in 16GB or 32GB models. It's not the newest or the fastest, but it's still a great phone.